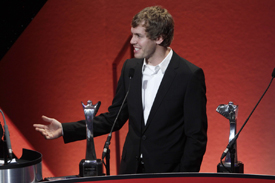 First of all it was the Autosport Awards. This is an amazing night celebrating the motorsport year which is attended by so many famous names, including no less than the World Champion himself, Sebastien Vettel.  I was very impressed as he arrived straight from the Race of Champions, having given up a German TV studio slot to be there. He was a bit late arriving, but the MC of the night, British TV presenter, Steve Rider, announced him and with a spotlight on the Red Bull Racing driver he came down the grand staircase into the Grosvenor House ballroom (a very grand hotel in London),  all the guests stood up and clapped.  There are over a thousand people at this event, so it was quite a moving moment.
It's a bit of a glitzy evening with lots of awards presented in all sorts of categories. It was no surprise that the Red Bull Racing car won Racing Car of the Year, nor that Vettel won International Racing Driver of the Year.  When each award was presented Steve Rider had a chat with the winner and there were some great interviews and lots of laughs. Vettel was great, making fun of Jenson Button and laughing at himself too. Jenson Butto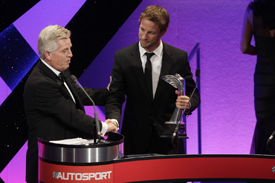 n was British Competition Driver of the Year and he was very funny too.
A tribute to Dan Wheldon who won the Gregor Grant Award posthumously was a very poignant moment, with a standing ovation for the sadly missed driver when his father came on stage to collect the award from Dario Franchitti. After a long, but very special, evening I went home to catch as much sleep as I could before the next morning's excitement – me interviewing David Coulthard.
I went to the venue for the interview bright and early and after a briefing with the Petronas Motorsport film crew, David arrived. He was very professional and I don't think he noticed how nervous I was when we started!  The interview was for a future episode of Petronas in Motorsports which shows at 9pm on a Monday night on ESPN Star Sports – I'll let you know when my episode is going to be aired, but I think it will be around the beginning of February.  David and I chatted for nearly an hour with the camera rolling the whole time. I asked him all sorts of questions  about his racing career, formula 1, DTM and lots more besides.
In the afternoon I then filmed a piece with my friends, with the location of Abbey Road, the famous zebra crossing used by the Beatles for the cover of one of their albums.  It was a good laugh hanging out with my mates and chatting for the camera, I hope they use all the footage.
Two days later I was back on the road to do another interview, this time with Michael Schumacher. I had to go to the Mercedes AMG Petronas F1 factory for this, so I hopped on a train and arrived shortly before my interviewee. We were doing the interview in the team's gym, which is a pretty cool place (as you'll see when you watch the programme).
Michael was very chilled and relaxed, making me feel quite comfortable chatting to him, although I was very nervous.  You can tell Michael is used to doing this sort of stuff as he was quickly testing his microphone and checking out which camera to look at, so we didn't waste any time.
Once we had done a sit down interview it was on to some gym training and Michael was just awesome. He showed me some exercises which I hadn't tried before and found quite difficult.
The first one was balancing across a Swiss Ball with my legs straight and held high and as you'll see from the photograph I didn't do it very well.
When Michael then showed me how it should be done my jaw dropped – just check out this picture!
I'm now incorporating this exercise into my training programme, so when I've mastered this I'll post another picture to rival Michael's!  After this exercise we went on to some other balance and core strength ones, with Michael sharing his training regime with me.
At one point he showed me his upper leg muscles which he has honed predominantly from playing football – his muscle tone is amazing.  I can't tell you how special it made me feel to be given so much of Michael's time and to be given my own personal masterclass in fitness training, it is something I don't think I'll ever forget. What a day!
I feel so privileged to have been given the chance to do interviews with David and Michael, so my thanks go to everyone at Petronas for the opportunity. I hope I don't end up on the cutting room floor!!!